The hero of today's article comes from the French city of Besançon. His name is Bertrand Vinsu and he is a videographer. He really likes Moldova and he talked to us about what keeps him coming back, taxi drivers and Moldovan music, answering us a few questions.
1. What do you like the most in Chisinau?
People. I like their self-irony, and the fact that they laugh at themselves. I also like the fact that Moldovans love their country, they are proud of it no matter what – it can be seen at least in the flags that hang everywhere, and in the many billboards that say "Patria mea e Moldova" which can be translated as "My Homeland is Moldova"
2. What are the things you don't like in Chisinau?
The aggressiveness of taxi drivers, and drivers in general, is particularly felt – people do not know how to behave on the roads. I'm going to tell you about an incident that happened to me as soon as I arrived: on leaving the airport, we took a taxi, and as soon as we entered the city, we participated in a chain accident. And you know what? After that, nothing happened: the drivers of the colliding cars got out and just talked. We sat in the car for 20 minutes, but neither the police nor the ambulance (some passengers received bruises) we did not wait. We just had to get out of the car and as if nothing had happened to take another taxi.
By the way, we were also "lucky" with the second taxi: for some reason our driver started running with another car. Taxi is an extreme in Moldovan – you never know how the trip will end.
3. What differentiates Moldova from France?
In Chisinau, unlike French cities, you can easily find a way out of any everyday situation: for example, if you are in town and your clothes are torn, you can easily find a place where they will fix it quickly and cheaply, while in France, most likely, a spoiled thing would simply be thrown away.
When you come to a French cafe in Chisinau, you don't find anything "French" there – neither croissants nor other dishes even remotely resemble the original.
Many people ask about the difference in wines. To be honest, I'm not an expert, but I have the impression that Moldovan and French wines are very different, even though the grape varieties and the climate of our countries are very similar. By the way, another interesting fact about Moldovan wine is that all Moldovans make their own wines. When I was at Gustar festival, almost every local had their own bottle of "Gura Cainarului" filled with homemade wine. And of course, the difference between a house drink and a commercial drink is very noticeable – the house is stronger and instantly leaves marks on the hands and lips.
4. Does France know anything about Moldova?
Absolutely nothing. But I told my friends about Moldova, and many of them wouldn't hesitate to come. First, because of the cheap and tasty beer and food. Second, because of the timing of the adventure and the "incomprehensibility" of everything that happens. I remember how we got to Soroca: at the exit of the Gare du Nord, someone stopped the minibus and handed the driver a huge bag. On the way to Soroca, this minibus stopped somewhere in the middle of the field – there was no stop, no refueling, but in the middle of this field there was a person who, as if from nothing was, stopped the minibus, took this bag, and disappeared somewhere.
5. What makes you return to Moldova?
Again, the people. Moldovans are very friendly and united. This is especially noticeable during national holidays, when the whole city gathers in the main square of Chisinau – they are all happy and above all, the holidays never turn into an explosion of violence. This distinguishes Moldova from France. July 14 I try not to leave the house, because it always ends in firecrackers and massive drunken fights. I like that fun in Moldova is very natural and easy: as soon as you play national music, complete strangers join hands and start dancing the chorus. For this to happen in France, everyone has to be drunk as hell.
By the way, I also really like Moldavian music, especially Zdob şi Zdub and Carla's Dreams. I started listening to Carla's Dreams, probably like many locals, from the song "POHUI". They have wonderful arrangements, a cool mix of different styles and languages. I am perhaps the only listener among them who, without delving into the words, likes this music.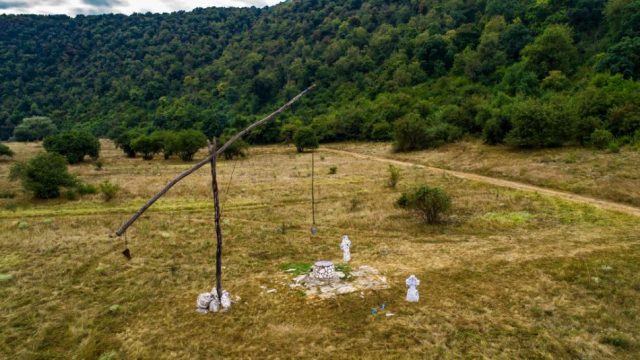 6. What challenges did you face in Moldova?
I did not feel any particular difficulties, because I was almost never left alone. Well, except that when we traveled through Moldova, I drank water from the wells that after a while I suffered from indigestion. I knew I was taking risks, but I accepted the challenge (laughs).
Speaking of risks, Moldovan minibuses are "cowboy transports", especially those going outside the capital.
Speaking of minibuses, I remember on my first visit I was struck by how people transfer money to travel. And drivers who constantly walk around with stacks of cash in their hands are always surprising. That is to say, people can freely take this pile from them and run away? By the way, how do drivers remember those who have already paid and recognize those who have just entered, when the trolleybus is full?
7. Did you manage to learn Romanian?
I know a few words: "Votat pentru Chirtoaca". During one of my visits, I saw an election campaign – then leaflets with this inscription were pasted all over the city. I recently realized that I had already lived two terms of Chirtoaca as mayor, I even have a photo with him!
8. What places do you like to visit?
1. La Placinte and Fornetti – I really like their pancakes in a pan, the cheese and dill pies.
2. Orhei Vechi – the landscapes of this place are of fascinating and amazing natural beauty.
3. Milestii Mici – the scale of these cellars is very impressive. And there was Steven Seagal – even his photo is proof of that. I haven't been to Cricova, but if I find out Chuck Norris has been there, I will definitely go there too.
4. The center of Chisinau in autumn – it is magnificent.
5. The Parks of Chisinau.
9. How would you describe Moldova in 3 words?
Nascut în Moldova. (Born in Moldova)
Original article to read here.