Moldova has secured the second spot in the Wine Lovers Index 2023, making it one of the best countries for wine lovers.
Though it may not be the first country that springs to mind when considering wine tourism, the Eastern European country of Moldova is a hidden gem with a rich winemaking history that stretches back over 5,000 years. Moldova's vineyards cover 122 kilo hectares, which works out as 3.6% of this small country's area, more than any other on this list. The Codru region, located in the central part of the country, is one of Moldova's most important and historically significant wine-producing areas. There are also 21 wine tours and tastings per million people, taking in the country's extensive network of underground wine cellars, the most famous of which is the Mileștii Mici.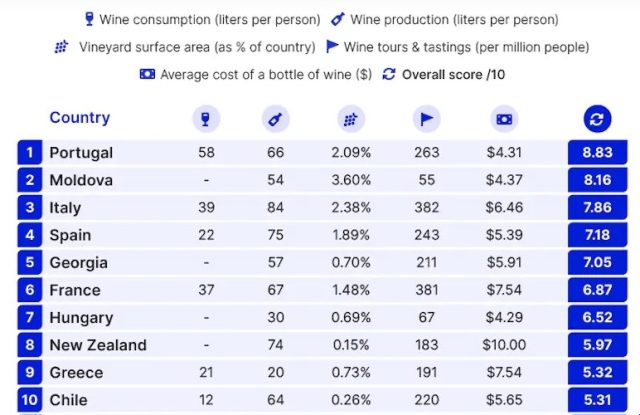 This achievement is a testament to the dedication and passion of Moldova's winemakers. They have consistently strived for excellence, preserving traditional winemaking techniques while embracing innovation. This harmonious blend has resulted in an impressive array of wines.
With its rich wine heritage, diverse grape varieties, and picturesque vineyards, Moldova's dedication to quality and wine tourism has earned it this well-deserved recognition.
Cheers to Moldova, a must-visit destination for wine lovers worldwide!
You can read the full article about the "Wine Lovers Index 2023" ranking by clicking here.
If you want to take a wine tour in Moldova, contact us!